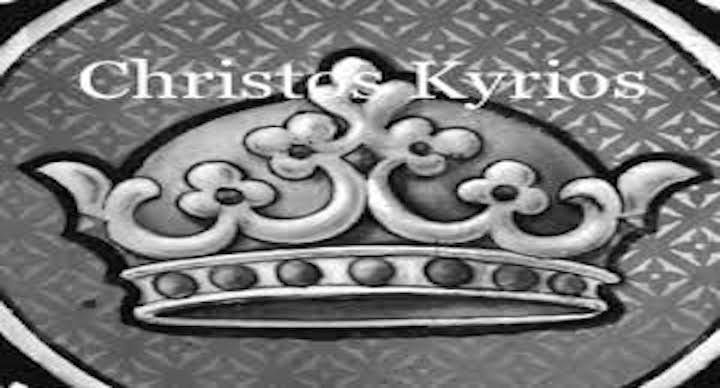 Christos Kyrios
Sermon Reflections
---
Here are some ideas for you to use to reflect on Sunday's sermon: Turn off all tech and go outside to take a walk this week, take a family member with you if you can. While you walk spend some time reflecting or talking about how you have known Jesus as Savior, how you have experienced his grace, and what it means to you to call him your Lord.
Pastor Toni Ruth reminded us that to call Jesus Lord means to follow his way. Read the Sermon on the Mount (Matthew 5-7) and do some self evaluation. Where does the sermon comfort you? Where does it challenge you?
Christo Kyrios (Christ is Lord ) is a costly allegiance. What would it cost you to choose his way above all other? What keeps you from making that commitment?
Pastor Toni Ruth
Scripture: John 1:1-9,14, 1 Kings 17:1-24
In all seriousness, in looking at the beginning of Elijah's ministry and his struggle against idolatry, we saw how we have our own idols in our time. They may not take the forms they did in ancient times, but we still struggle with divided loyalties and the temptation to put any number of things above our commitment to Jesus Christ.
We also saw that (according to Scripture) the idols worshiped in the ancient world – in Canaan, Corinth, or Rome – were not real. Much like the "Elf on the Shelf" is just an inanimate doll that parents have to secretly relocate every night, the idols of ancient times were also inanimate, unliving, unable to actual do anything. That didn't make idol worship fake or safe – the behaviors and beliefs of idol worshipers were and still are very real. We make an idol of whatever it is that we put above God and serving that idol shapes and guides our choices and behaviors.
Living under the Lordship of Jesus Christ means that our faith in God and our daily decision to follow Jesus shapes our choices and behaviors. An important aspect of our work of discipleship is recognizing our idols and allowing God to tear them down. That can be a difficult and even painful process, but one that is necessary for us to grow as disciples. But we can be encouraged, because God has given us power through the Holy Spirit, Who works in us and through us, making real God's sanctifying grace in our lives.
This week, find some time to reflect on the following questions and pray that God will help you to be faithful in following Jesus:
How do we begin to recognize the idols in our lives? What are some potential idols in your life right now?
What resources has God given you to recognize and reject possible idols? What Scriptures, practices, or prayers help you the most in doing that work?
We pray that you will have a week full of God's grace and comforting presence and we look forward to being with you all again in worship!
Grace and Peace, Pastor Wes
2 Timothy 4:1-8
Yesterday Pastor Toni Ruth challenged us to consider what it means to call Jesus the Truth. As you reflect on this sermon, take a moment to look up one of these passages from John's Gospel and consider what it means for you to call Jesus the Truth of God.
According to John the Truth:
Resides in Jesus (1:17)
Is something we DO (3:21)
is the purest form of worship (4:23)
liberates us, set us free (8:32)
is something we bear witness to (8:33)
is what Jesus tells and the devil does not (8:40)
is what the Holy Spirit guides us into (16:13)
is what sanctifies us (makes us holy) (17:17)
What does it mean to you to submit to Jesus as Lord? Where do you feel resistance to the Truth that the Lord offers? How might yielding your life to the truth of Jesus make you a more faithful disciple and servant?
Pastor Toni Ruth
Christ the King Sunday
Christ the King Sunday is the culmination of the Christian year and the last Sunday before the beginning of Advent. This represents a dramatic shift – we go from focusing on the reign and rule of our Lord Jesus Christ to once again awaiting the arrival of the King as a little baby. That shift reminds us that the "cosmic Christ" that we talked about yesterday – Jesus as the Lord of all creation – is also the same God that has come to near to us in the birth of Jesus and is present with us through the Holy Spirit.
We talked yesterday about how the language that we sometimes see in Scripture, particularly when Paul talks about the "cosmic Christ", sounds strange to our ears. Even a phrase like "kingdom of God", which sounds so familiar to us when it comes to Scripture, reflects a different worldview than ours. We don't typically think of our world as divided up into kingdoms – we talk about nations or states. Instead of kings, we talk about presidents or governors or leaders.
While I'm not suggesting that we remove the word "kingdom" from our Bibles, it's occasionally helpful think about things in a slightly different way. We saw yesterday that one way of thinking about the Kingdom of God is to think of it as a culture – the culture of God. We talked about the various cultures that we can participate in and how, even in small ways, those cultures make claims on our lives. For followers of Jesus, the culture of God is above any other culture that we might be a part of.
The culture of God is defined by the sacrificial, risk-taking, outcast-embracing love of Jesus. It's a culture that reflects the Lordship of Jesus Christ over all things. There are times when some of those other cultures – political, social, even entertainment and hobbies – conflict with the culture of God. This means that we have to make some hard decisions about what defines who we are, what we build our lives on, what or who has power over us.
This week:
Think and pray about what it means in your life to be part of the culture of God.

 

What does it mean for your everyday life to take the Lordship of Jesus seriously?

 

As we begin the season of Advent next week, what are the sources of your hope and joy in this very difficult year?
Pastor Wes