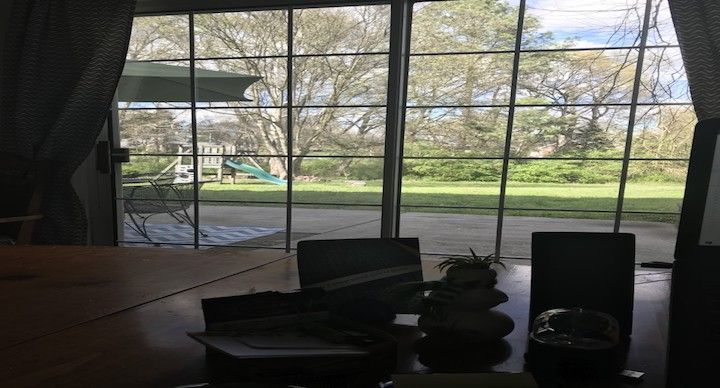 Devotion: Week of March 29, 2020 
This past couple of weeks have been full of change in our worlds.  The way we communicate, work, play, and worship have all shifted and it has been unsettling to all of us.  Change is not a bad thing but when it is unexpected it often leads to losses for us that we are not prepared for.  I have felt that in these last weeks and know from you all that you have too.  Anxiety is high, we  are all grieving losses (some small and some big), and we all wonder if we'll get sick or what will come next.  In Psalm 46, the Psalmist describes feeling that the whole earth is changing, the mountains shake in the heart of the sea, the waters roar and foam, the mountains tremble with tumult (v.2-3).  It has felt like that some days for sure.  
One of the big changes for Wes and I is that the staff has moved our offices in preparation for our building project.  We would have had to make this move without the coronavirus concerns, but we would not have made it so quickly and urgently.  As I learn to do ministry in 1,000 new ways in my new space in our basement one of the gifts has been my new view (see picture).  As it sit at my desk writing or on virtual meetings (Zoom) with you all, have had the opportunity to watch out this window as spring comes.   It feels like watching a slow motion video as each day brings new buds, new leaves, new songs from new birds.  With this comes a peace that the Psalmist offers in the midst of the tumult of change and trouble, 
Be still, and know that I am God!  I am exalted among the nations, 
I am exalted in the earth."  The Lord of hosts is with us; 
the God of Jacob is our refuge. 
For me these days it sounds for all the world like Jesus' teaching in Matthew 6:26-34 
Look at the birds of the air; they neither sow nor reap nor gather into barns,
and yet your heavenly Father feeds them. Are you not of more value than they? 
And can any of you by worrying add a single hour to your span of life? 
And why do you worry about clothing? 
Consider the lilies of the field, how they grow; they neither toil nor spin, yet I tell you, even Solomon in all his glory was not clothed like one of these. 
But if God so clothes the grass of the field, which is alive today 
and tomorrow is thrown into the oven, will he not much more clothe you 
—you of little faith? 
Therefore do not worry, saying, 'What will we eat?' or 'What will we drink?' 
or 'What will we wear?' 
For it is the Gentiles who strive for all these things; 
and indeed your heavenly Father knows that you need all these things. 
But strive first for the kingdom of God and his righteousness, 
and all these things will be given to you as well. 
So do not worry about tomorrow, for tomorrow will bring worries of its own. 
Today's trouble is enough for today. 
Today's trouble is more than enough for today and if we can find a moment to be still and see the coming of spring, the promise that God is still in control, then maybe that deep breath we need is just outside our window.   
God my help, open my eyes to see and not worry.  Be my refuge in this time of trouble.  Be enough for today.  Amen.