New Study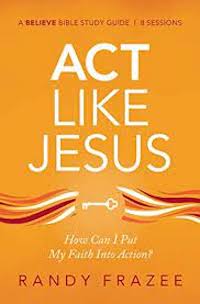 Have you thought about joining the How to Get Beyond Your New Year's Resolution? Join us Sunday at 10 a.m. Class is in room 1 Remember your last New Year's resolution? The last time you decided, "That's it, I'm going to change something"? And then you didn't? You wanted to see a change happen, you knew what you needed to do, but you couldn't make it stick. We do the same thing with our faith. We want to live more like Jesus lived, but just wanting to and trying harder never seems to work.
So how do you transport your beliefs as a Christ-follower twelve inches from your head to your heart?
You practice. You do. You act.
In Act Like Jesus, Randy Frazee walks us through the spiritual workouts we need every day to develop a lifestyle of loving God and loving others, and learning to act like Jesus.
Harrisburg UMC is offering this study on Sunday Mornings at 10 a.m. Room 1. We invite you to join us as we study and respond to "How do I put my faith into action" You may purchase the book online or just join the class for discussion. We welcome you. Questions Call the church office 704-455-2311
Related Events