Stepping Stones Preschool Registration
January 28, 2020 @ 8:00 am

-

February 8, 2020 @ 1:00 pm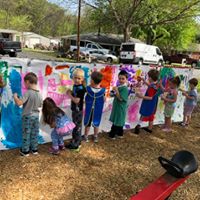 PRESCHOOL NEWS
It's hard to believe, but it's registration time again! Registration for church members will be January 28 – 31 from 9 -1.  Beginning February 3, we will open registration to the public and classes will be filled on a first come,  first served basis. Our classes can fill up very quickly so it is very important for you to turn your form in to me by January 31 if you would like priority consideration.
 Below are the classes we plan to offer along with the tuition:
Three year olds:
One M/W/F class – $220/ month
Two T/TH classes – $150/ month
Four year olds:
Three M/W/F classes – $220/ month
One T/TH class – $150/month
One M -F class – $340/ month
The registration fee is $75 for one child and $50 for each additional child in the same family. The registration fee must be paid at the time of registration and will be refunded only if all classes requested are full. 
If you are interested in registering your child for the 2020 – 2021 school year, please pick up a registration form from the Preschool Info table, or stop by the Preschool Office. If you have questions or would like to schedule a tour, please call Lisa at 704-455-3544 Lisa.steppingstones@gmail.com .