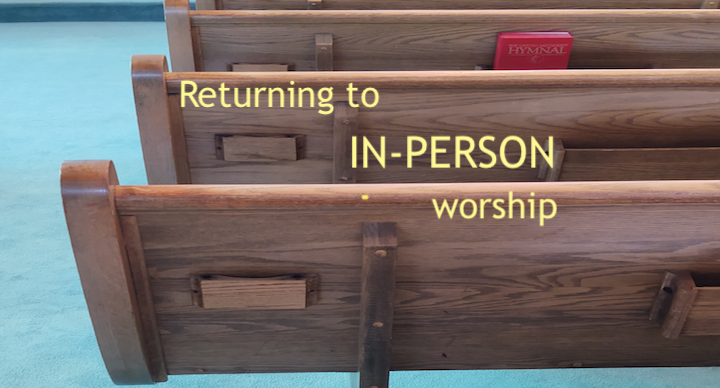 In-Person Worship Procedures
Returning to limited in-person indoor
worship at HUMC
Beginning in October we will begin a slow return to in person, indoor worship. In compliance with the direction of the Bishop of the Western NC Conference of the UMC and the directives of the Governor's office, attendance will be capped at 25 for in person worship during Phase 2.5 of reopening. We ask that in deference to one another you refrain from signing up for more than 1 service during the month of October. We will reevaluate this at the beginning of November.
How do I attend?
Go to the link below  to sign up for the week you'd like to attend. Everyone will register so that we can have an accurate record of contacts. If you do not sign up but come on Sunday we will not be able to guarantee that you can join worship in person.
We ask that you refrain from attending in person worship:
  if you have had close contact with someone who tested positive for Covid within 14 days of the service you register to attend
if you your self have had a positive test for Covid within 10 days of the service you attend
 if you have been feeling sick with fever and/or respiratory symptoms like cough, runny nose, or sore throat for greater than 24 hours before the service you register to attend.
We will continue to live stream worship every Sunday for the foreseeable future. You will be able to continue to worship with your church family online until you feel comfortable returning to in person.
What can I expect?
When you arrive, we ask that you honor 6ft physical distance from others (not from your same household) for the duration of your time on church property.
Masks/face coverings are required for all in the congregation.  Those leading worship will not be masked during the service as it will be live streamed.
As you enter the narthex, please put on your mask/face covering. If you do not have a mask/face covering we will have them available for you.  You will also be asked to use the hand sanitizer provided.
We ask that only one family at a time enter the narthex. When you enter, the ushers will check you in and help you to your seat. Once seated, please feel free to greet and visit with those around you (still honoring distance and wearing face covering).
We will not be joining in congregational singing.  The Praise Team or quartet from the Choir will be leading music for us.
Please be advised that restrooms are for emergencies only and are not handicap accessible during construction. If this is a concern for you, we request that you wait until after the construction project is complete to plan to come worship.
After worship the ushers will dismiss by rows so that we can honor distancing.  Once outside you are welcome to visit with other attendees in a responsible fashion.
In Person Worship Schedule
Click on the date you wish to worship and it will take you to the registration for that date.
November 1st, 10 a.m.
November 1st, 2 p.m Communion and All Saints Day
November 8th, 10 a.m.
November 15th, 10 a.m.
November 22nd, 10 a.m.
November 29th, 10 a.m.