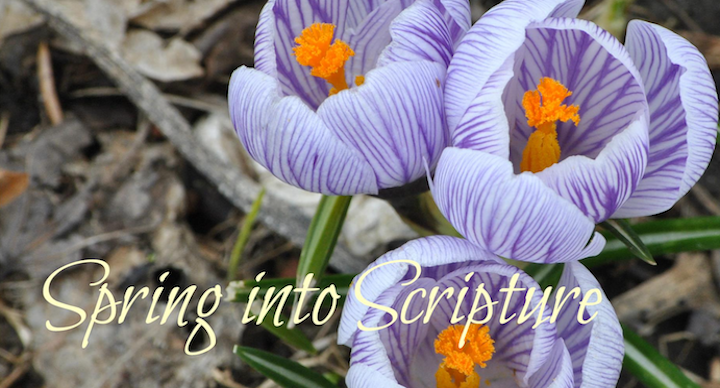 Spring into the Scriptures
Join Pastor Wes, Mildred Ojoye, or Stephanie Bailey.  All of these people are offering you an opportunity to dive into Scripture in different ways.  Check out these opportunities:
Pastor Wes: Mayhem! Violence! Conspiracies! Romance Gone Wrong!
This is not the newest Netflix series or New York Times bestseller – it's our upcoming Bible Study series on the book of Judges!
In this 5-week study, we will learn what this important Old Testament book can teach us about living as faithful Christians in 21st century America. You are invited to join us starting on Thursday, April 22nd at 7:30 in the church library. If you have any questions, please contact Pastor Wes.
Join Mildred Ojoye
Thursday nights at 6:00 p.m, beginning April 15th, in the new gathering space.  Take some time to relax with friends, and join in a discussion about scripture.  Below are the topics for each week, come to them all or come as you are able.  With covid restrictions, mask and social distancing is still in place and that we ask you to preregister here.
Jesus is doing A New Thing: Isaiah" 43: 19-21.  Hymn: In Times Like These.
Jesus talking at his Baptism – Feet Washing Service.  John 13:3-5, 13:14. "Unless I wash you, you shall have no part of me" (It is an act of Service, for you to do one to another.)
 Transformed Life.  How Is/has Jesus transformed your lives during the pandemic of March 2020-March 2o21? Exactly 1 year moving into 2nd year. Focus:  The Woman at the Well in Scripture.
Great is God's Faithfulness: Isaiah 43: 15-21, John 1: Hymn "In Times like These" 2 Thessalonians 3:3.
Easter – Genesis 1:1, Galatians 4:4 ESV, Matt 15: 22-25 ES
PS, I love you:John 3:16. Agape love, it's unconditional. Hymn: Love Lifted Me.
Jesus said, "Feed my sheep": John 21: 15-17.  Jesus talking about his people. SPIRITUAL FOOD. Hymn: Tell me the stories of Jesus.
The Ten Commandments: Exodus 20:2-17, Deuteronomy 5:6-21. Hymn:They will know we are Christian by our Love
Join Stephanie Bailey
This group will be discussing podcasts from the UMC conference web-site. Below are the first 4 podcasts and links for discussion. We'll meet in the new gathering space at the church, starting Sunday, April 11 at 3:30 p.m.
There's a Keurig in that space and Coffee (regular) K-cups are available, you are welcome to bring your own specialty k-cup should you like special brand. For this group, you are to listen to the pod cast before our meeting so we can discuss the content.
Podcasts
1). Instilling Faith in Our Kids
2). Creating Change when Stuck in the same
3). Real Relationships in virtual space
4) Developing Your Boldness