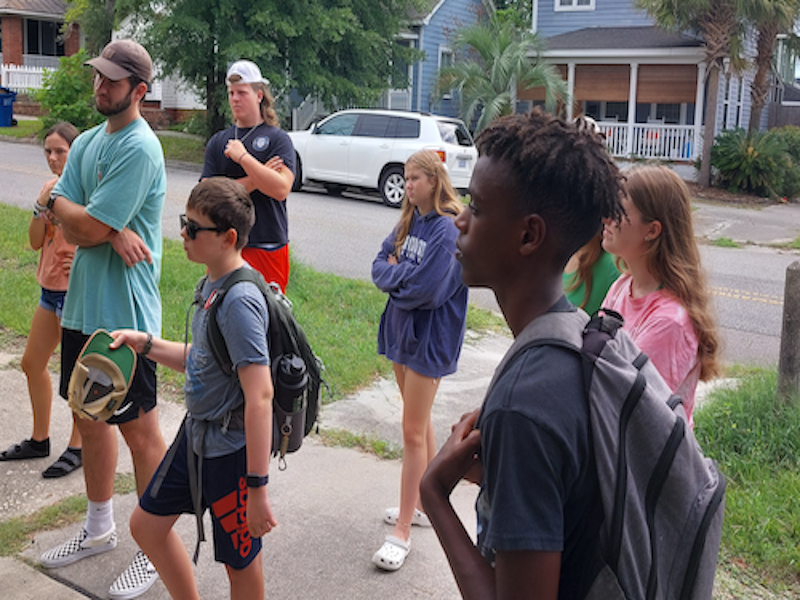 Presence is More Powerful Than You Realize
Devotion by Pastor Richard
It has been a very intense four weeks this past month. I have led two mission trips and have pulled off an incredibly successful VBS with our amazing church and amazing volunteers! There is no way I could do all of that without the help and commitment of strong and dedicated volunteers! Thank you to everyone who had some role in any of those events. Your support and commitment has not gone unnoticed.
One of the greatest lessons I learned was on the Middle School mission trip to Wilmington a couple weeks ago, and it was about how your presence can make all the difference in the world. Many times it is not what you do on these trips, but the impact you can have on a life or even a community by just showing up. Your presence is so important, and I know I have written about it before, but this summer was a reinforcement of its importance.
In Wilmington, my team was assigned to go and clean the backyard of a person who is on the Vigilant Hope missionary team. This gentleman has an amazing story about how God helped him get back on his feet after a life of facing one tragedy after another. His main focus is to minister to the homeless and drug addicted in the city. He had recently bought a house in a very poor part of town, and needed some young people to help him reclaim his back yard and to build some frames for a raised garden that would provide fresh vegetables for him and his neighbors.
The week before we arrived, he told us that two doors down was a drug dealer's house. There was a violent event where shots were fired and some of the bullets went into the house across the street just above the couch, nearly hitting the homeowner. He called the authorities and turned in the dealers and by the time we got there, the occupants were moving out. As you might expect, the neighbors had been living in fear and were afraid to even come out of their homes.
Then we show up, a group of a dozen middle class kids making all kinds of noise and working incredibly hard on a stranger's backyard. Before long, our homeowner noticed one neighbor sitting on their porch that he had not seen in a long while. Then another neighbor, a young woman, came by walking her dogs. After that another person walked up and asked us what we were doing and expressed that they were happy that we were there. What I learned was that our little group of noisy and hard-working teenagers actually made the neighborhood safer for the residents who live there. Our physical presence was impacting and changing the neighborhood. We were helping to build community and increasing the safety of the residents just by being there.
I have participated so many mission trips over the thirty years I have been doing full-time ministry, never has this idea of just our being present helped me to see the greater impact that we as Christians can have over the world. In so many situations, people and communities just simply need to know that they are not alone and that there are actually people out there who care for them, regardless of the differences between races or cultures. Painting a wall or cleaning a yard are important, but they are not the most significant work.  In just a few days our presence in that Wilmington community made a significant impact. Can you imagine if the church just showed up? Never underestimate the impact you can have on someone just by showing up!
See you at church this Sunday! Just show up and impact another person!
Pastor Richard