HomeComing and Habitat for Humanity 2021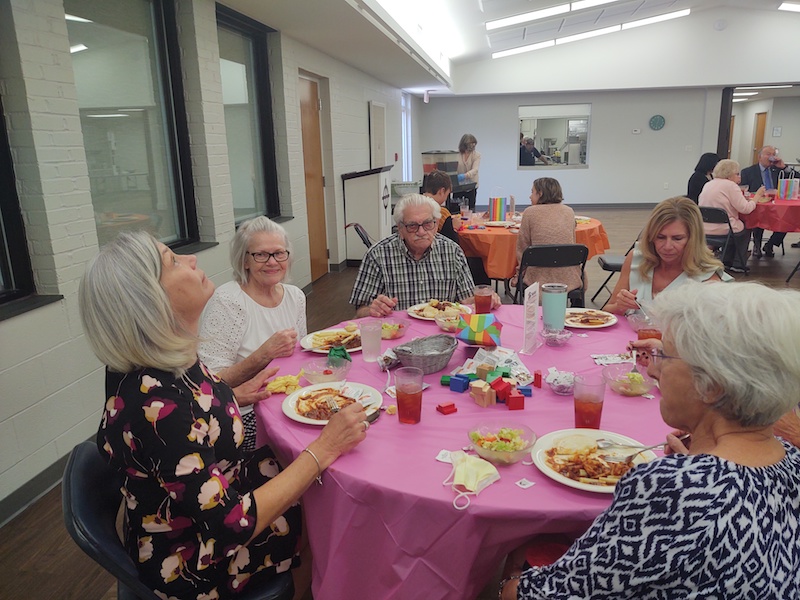 Homecoming – What a joy to gather, sing our favorite songs of faith and enjoy a delicious Spaghetti Lunch. How wonderful it was to have Rhonda Hill helping to lead the singing, Rhonda is a charter member and has been sharing her love of music from the very beginning. Thank you Rhonda for sharing your gift of music.
Looking at the table with the pink table cloth, is the family of Jim & Jo Green. Jim and Jo are charter members at HUMC and they had their daughters with them who grew up at HUMC. As they took them on a tour of the new build it was fascinating to hear their stories of coming to Sunday school and who their teachers were, where and what the first Sanctuary looked like. This is truly what homecoming is about sharing our heritage with the young, and reminiscing with those of us who've been around awhile.
On each table was a bag with building material to challenge each table to build a house, this was fun and you can see we're a very creative bunch, mostly thanks to the young people.
We are close to reaching our annual goal for Habitat for Humanity of $2,000, so if you've not had a chance to make a donation use the button below to give online (fund: Habitat) or mail your contribution to the church (P.O. Box 970, Harrisburg, NC 28075).
Special thanks to John Lomonaco and the kitchen crew for all their work in making lunch yummy and safe. As you can see from the pictures the spaghetti looks delicious but tasted even better. Dining was inside the fellowship and in the court yard outside the fellowship hall. The court yard was a great surprise benefit of the new build, we look forward to using this new space for more events.
Linkhttps://onrealm.org/harrisburgumc/-/form/give/now