Art of Creation
November 1 @ 8:00 am

-

5:00 pm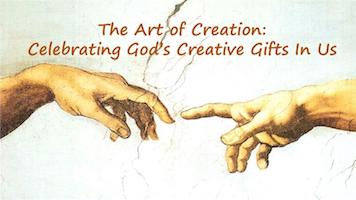 Our members are blessed with a great diversity of creative gifts so we are inviting you to find inspiration in God's Word and to share your talents! Here's how you can participate:
Read Genesis 1:1-2:4 prayerfully looking for where God speaks to or inspires your creativity and choose just a few verses to use as your inspiration. Using your God given gifts create a piece of art that conveys the events or meaning of your chosen scripture. You may use any medium you chose – drawing, painting, fabric art, quilting, knitting/crochet, beading/jewelry making, woodwork, metal work…use your imagination and various skills. We want to see all those hidden talents!
Any project submitted will become part of an auction to support missions. Please let Pastor Toni Ruth know by November 1 that you will be submitting a piece of art for this series.  We will want to know your inspiration verses and what medium you will use.  The projects do not need to be completed until January 1, 2021.
January 2021 seems a long way off, but we want you to have plenty of time to create your art pieces. When we preach the series "The Art of Creation", your art will be displayed in the church for all to enjoy. At the end of the series, we will hold the auction for missions. We can't wait to see how God inspires you!