Reverse Advent Calendar – Do what you can!
November 29, 2020

-

December 25, 2020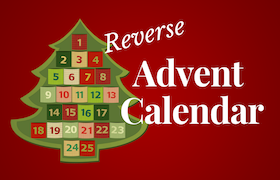 DO WHAT YOU CAN!
The HUMC Missions Committee invites you to participate in Reversing your Advent Calendar, rather than enjoying a piece of chocolate or a toy each day, reverse the tradition by filling a bag to be given to someone at Urban Ministries, Room In The Inn. As you collect these items, pray for the man who will receive this gift.   Bring you filled bag to Harrisburg United Methodist Church Christmas Eve or bring by the church the following week. 
If you can't do the whole calendar, pick a few items on the list or bring a number of one of the  items.  Room In The Inn needs all these items.  Do What you Can!  We hope to provide many complete bags, but all donations are greatly appreciated.  It's been a difficult year and if 2020 has taught us anything, it's taught us that we need each other.  
Dec. 1st – Reusable Bag
Dec. 2nd -1 new pair of underwear boxer briefs (M, L, XL, XXL) Dec. 3rd – small can of shaving cream
Dec 4th – new towel
Dec. 5th – new wash cloth
Dec. 6th – new winter hat
Dec, 7th – new gloves
Dec. 8th – new mask (homemade is acceptable
Dec. 9th – travel size shampoo
Dec. 10th – travel size shower gel
Dec. 11th- travel size toothpaste
Dec. 12th – new toothbrush
Dec. 13th – new disposable razor
Dec. 14th – small hand sanitizer
Dec. 15th – lip balm
Dec. 16th – small skin lotion
Dec. 17th – 1 pair new socks
Dec. 18th – comb
Dec. 19th – peanut butter crackers
Dec. 20th – candy bar
Dec. 21st – pack of gum
Dec. 22nd – pack of mints
Dec. 23rd – 2nd pair of socks
Dec. 24th – A Christmas Card