Thank a Teacher Day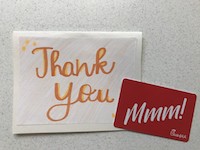 Showing Gratitude for Teachers
We are hoping to send a card and a $5 gift card to all the staff at Pitts School and Rocky River School for teacher appreciation (250 People!).
We need your help! Please let us know how many cards you plan to create and include a $5 gift card from a local business,
S
IGN UP HERE.
We will address and postage on them, bring to the church by May 17th. The church office will be open again beginning Wednesday, May 6th, so you may drop cards at the church office (9am – 2pm) or put them in the church mailbox outside, which will be checked daily.