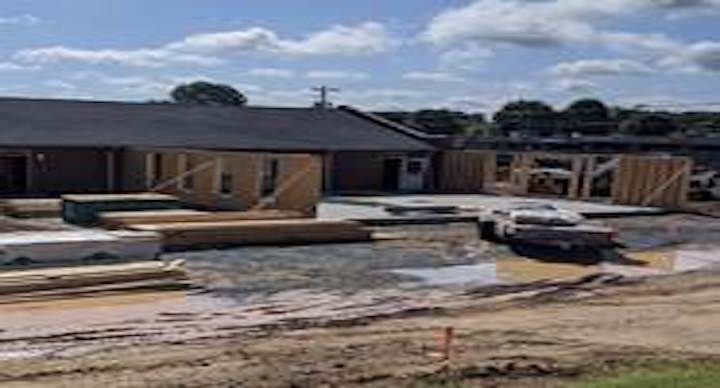 Dream Those Big Dreams
Yesterday I went over to the church because I heard the construction team had poured the pad for the new Youth Room and snapped this shot from the DMV parking lot! I am so excited! The walls are beginning to take shape, and it will only be a matter of time before we will be able to use our new space. Once things start moving you cannot be help to be excited about the future possibilities, new ministry, and more inclusion of young people in our community who need the hope that only Jesus can give.
So, what is bringing excitement into your life? What are you looking forward to in the future? Hope is a real need for all of us, especially now. We are bombarded by so many negatives and sometimes it can overwhelm us. We are dealing with racial issues, political issues, Covid 19 is really messing things up, and because of it so many of us were looking forward to going back to school and now that is messed up. These are some really trying days. So, again I ask, what are you looking forward to? What is bringing you hope?
For me my hope is in Christ. He helps me to refocus and look beyond my current situation. He helps me to see future possibilities in a world filled with His love and hope. Through Christ I can see our new room filled with young people growing in their faith and in their trust in God, and that excites me. I can see us being a bright spot in Harrisburg where everyone is welcomed and loved, regardless of any issues they, or we may have. The really cool thing about the church construction is that it is proof that there will be a new day ahead. The challenge for us is how are we going to embrace that new day, and what foundations are we laying down now to make our dream a reality?
Go ahead, dream those big dreams, and at the same time begin working on making them come true. If God is a part of your dreams, then hold on tight, because it will be more amazing than you think!
Romans 15:13 NLT
I pray that God, the source of hope, will fill you completely with joy and peace because you trust in him. Then you will overflow with confident hope through the power of the Holy Spirit.