Christmas Donuts!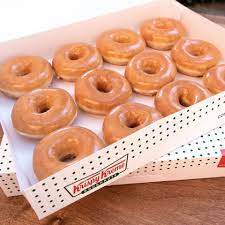 Christmas Donuts
Devotion by Pastor Richard
Yes, I know, Christmas is past, now we are in full on winter mode planning furiously for the coming year. The break is over, Jesus is born, the celebrations have moved past, it is time to get focused on the New Year. So, Christmas donuts?
Every Christmas Eve for the past ten years or better, I have encouraged the churches I have worked for to engage with the working community who are stuck in jobs where they cannot be with their families on Christmas Eve. The church provides Christmas Eve Service participants a dozen donuts, and they are asked to give them to someone who is working that night. I am thinking people like police, firemen, healthcare workers at hospitals and emergency rooms, gas station attendants, convenient store workers, just anyone who is spending time away from their families and friends due to having to work. It is just a very simple, non-intrusive, non-threatening way of letting someone know they are cared for and appreciated. It is a simple, random act of kindness activity that I borrowed from another church.
This year was more difficult than in past years in getting everything together. Processes changed with the supplier. I had to go to the mall area on Christmas eve (I am not even going to discuss that nightmare!). I thought I had others on board to help. We had family coming in that day. Well, it was Christmas after all! I started asking myself, "is it worth the hassle?" I had not gotten any feedback or cool stories from people who had taken them in a couple years. I really had no idea if people were actually giving them out. I was thinking it was time to end this little project.
Well, this year, it just so happened that two people told me stories of how our donut thing impacted them personally and the folks they gave the donuts. One story was from my wife. She spends more than enough time in the local Dollar Store, and had begun looking forward to seeing  one particular employee there. She was so excited to be able to take donuts to her. We stopped by Christmas Eve evening, and the store was still open. She ran in, but did not find her friend, instead there were a couple young people working. They were so surprised at her gift, one asked her if they were really for him to eat, one gave her a big hug, and another ran to open and hold the door for her as she left. Needless to say, she was smiling ear to ear when she returned to the car.
The second story was from our office admin. She got a phone call maybe the day before Christmas eve from a lady who asked her if we were the "donut church" and if we would have donuts there at the Christmas Eve services. Her answer of course was yes, we would have them. Apparently, this lady attends our Christmas Eve services and loves taking home a box of donuts. She comes and hears the Good News of Jesus being born into the world and leaves with donuts! To me that is a win. This person is a guest who is encouraged by our hospitality and chooses to join us for Jesus and donuts.
The point to all of this is to remind us of the verse found in Galatians 6:9 "So let's not get tired of doing what is good. At just the right time we will reap a harvest of blessing if we don't give up." I believe that God uses all of our good intentions and good deeds for His glory and for blessing other people. It really should not matter that we benefit from that action, what matters is our faithfulness in that action. Maybe I should be a little more faithful in those actions where I attempt to do good, because I have no idea of how God is going to work in any of those situations. Even in the task of trying to get others to hand out donuts on Christmas Eve!
A little kindness goes a long way!
Related Events