The Christ Child, A devotion by Pastor Richard
December 22, 2021

-

December 28, 2021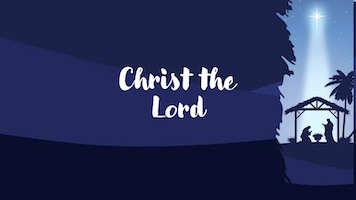 The Christ Child
A devotion by Pastor Richard
This year, for some reason, has been much, much busier than usual for me personally. Normally I look forward to December and my work with youth and children slowing down a little. We try to do our parties and Christmas celebrations earlier in the month because of all the family things and travel starts to occur mid-month. Of course, other areas of the church have more than usual going on with extra services to plan and organize. This year has been different. Maybe it was my nephew's wedding last week. Maybe it was my family deciding they could come see us and spend Christmas with us after all. It might have been deciding to preach on the day after Christmas when the opportunity arose! It just feels like a lot. I am not going to mention all the different areas of stress, conflict, and the attempt to deal graciously with all those involved!
It is so easy to get caught up in all the distractions and miss the lessons God teaches us in the birth story of His own Son. I bet I have either read or heard the birth story at least twenty times this December, and we are still not even to Christmas Eve! I have yet to take the time and process what it means for me, this year, in this context. I have not begun to think of how this precious babe should be directing my path for 2022, which is lining up to be another challenging year. In my heart I feel that God is up to something and will be moving in new and fresh ways in our country, but my fear is that we are going to miss our opportunity to be a part of it simply because we do not stop and pause at the manger. We are too busy with everything else to take the time to peer at the baby in the stable and see the face of God.
So, my question for all of us, with myself being at the top of the list, what is God teaching us from the manger this year? What lessons of His unfathomable love is He trying to teach me this season? It is so easy to walk on by and continue with my life, and do the things I want, without pausing to really notice God coming into our world, just so that we all might find a better way of living and relating to both our Creator and with one another. Let me encourage you to do some deeper self-reflection and God-reflection this year. Do not take that next step into 2022 without having spent time with Jesus and His family in that old stable in Bethlehem. Discover how God wants to change you and use you for His purposes in the coming year.
Merry Christmas!!!
Related Events