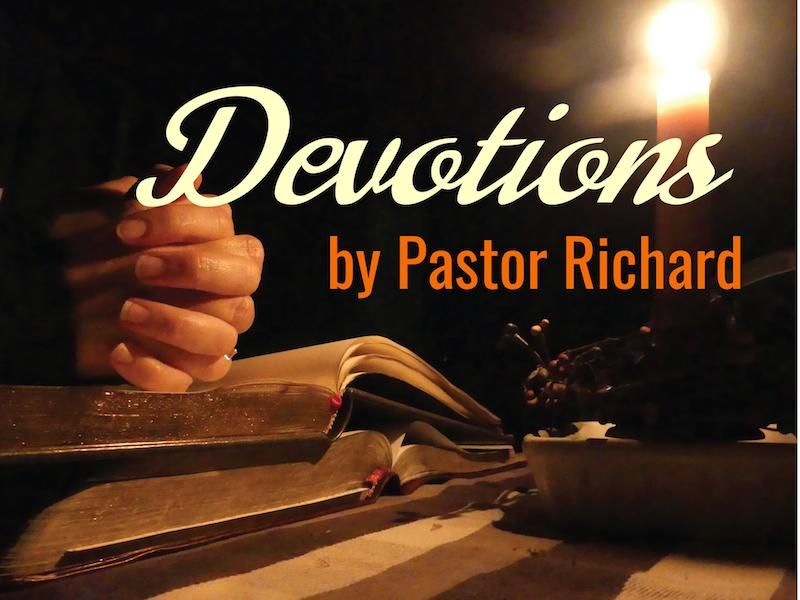 Power Steering –Devotions by Pastor Richard
Power Steering
Devotion by Pastor Richard
Last week I was cruising facebook, which can easily lead to very deep frustrations and discouragement with humanity. I did it anyway. Sometimes I just like to see how mean and ignorant people can be without a filter. At times it does drive me to prayer, which is a good thing, but I am sure God has to be more upset at humanity than I am. It is a good thing He is full of grace for us all!
While enjoying my plunge into the depths of human honesty and conviction on facebook, I did run across a meme my uncle has posted. It was a picture of an old car from the sixties and the caption read: "In my day, driving without power steering meant not having to go to the gym!" I thought it was great and so true! Then I thought, how many people under the age of 50 have ever driven a car without power steering? It did remind me of a story…
A few years ago when I served at my Florida church, we had a 55 passenger retired Trailways bus we used for trips. On one of our mission trips to the eastern hills of Kentucky we blew the engine. We were less than ten miles from our destination, crawling up the last of the hard mountain climbs to our destination and that poor old bus engine gave up the fight. She was dead on the side of the road. She was not headed back to the Sunshine state without a new motor.
Four months later we finally got the call from the Kentucky mechanic who had finally finished installing the new engine. It became my task to fly to Kentucky and bring our bus home. I flew to the nearest airport, which was still a two-hour drive to where the mechanic's shop was. Someone from a church there came and took me to a place in the hills of Kentucky where I would never be able to find again! It was around 5 pm or so before I got behind the wheel to begin my one-thousand-mile journey home.
The bus started up just fine and I was on my way. I pulled out, got on the road and was doing my best to navigate the curving back roads trying to find the nearest interstate. I probably was a hundred miles into my journey and I felt the steering get more and more stiff. I was not sure what was going on until I got near the last turn before getting on the interstate, and I missed the turn. Doing a U-turn in a fifty-foot vehicle is tough. Doing that U-turn with NO power steering is something else all-together! I had driven a car without power steering before, it was more difficult, but not that bad. It just took a lot more turning and a lot more muscle strength. Driving a bus without it is a whole different experience!
I eventually made it to Asheville, where I was planning to stop for the night. I do not exactly remember how I got the big old bus into the parking lot at the hotel after driving six hours with no power steering. When I stood up to get out of the bus, I felt like my arms must have looked like the cartoon character Popeye! I was so stiff and sore I was not sure if I could pick up my overnight bag and check in at the hotel desk. I thought that if I needed an injection that night that no needle would be able to penetrate my huge and stiffened shoulders! It really took more than I realized out of me that night.
So, I am a believer in power steering! What an incredible invention! I cannot imagine driving without it now. We all take it for granted. You know, I think Jesus is very similar. I remember the part of my life without Jesus, no power steering. I also remember the larger part of my life with Jesus, with power steering. Looking back, I would have never made it this far in life without Jesus giving me love, hope and direction. Life without Christ would have been like driving that beast of a bus without power steering. Sure, I could have made it through life ok…, maybe? But having Jesus as that source of power in my life sure has made everything so much better, and so much less difficult. The problems and challenges were just more manageable because of Jesus. Big arm muscles might be cool, but nothing compares to a rich life in Christ. Where does your power source come from? For many it is family, maybe it is a career or money. Someone else's might be control over their life or someone else's. I just know that my best life is when I am in sync with where God is leading me and when I am relying on Christ to get me there!
I do not recommend driving a bus without power steering! I do recommend a life trusting and relying on Jesus!